8 Most Popular Lawn Sweeper Brands in 2020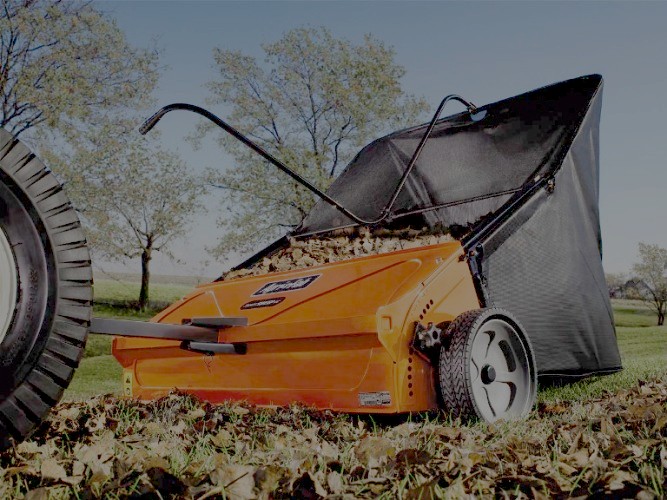 The lawn sweepers are being manufactured and marketed by several brands that are in this industry over several decades. A list of the brands that offer the best selling products includes the following,
1. Agri- Fab
The company was founded back in 1975 and is headquartered in Sullivan, Illinois. They are one of the top most manufacturers of the garden and lawn accessories and supplies. Their product categories include; carts, sweepers, spreaders, groomers, rollers, tiller, cultivator, rake, scraper box, sprayers, and vacs. The key success of the company is the upgradations of the newest trends as soon as they come in. The love for their business is seen right from their logo, which has the letters I and f towed just like towing a tractor. Their tagline is "Lawn care made easy", which is their mission to achieve too.
When it comes to the sweepers, the products they manufacture includes,
26" push lawn sweeper
42" tow lawn sweeper
44" lawn sweeper
52" lawn sweeper
All Agri-Fab Lawn sweepers can be viewed on their website www.agri-fab.com
Here is a youtube video which explains about the product in brief.
2. Brinly-Hardy
Brinly- hardy brand was formed in the year 1800 and is headquartered in Jeffersonville, Indiana. The product categories of this brand include aerators, carts, lawn vac systems, detachers, sweepers, broadcast spreaders, sprayers, and rollers for lawn care. Apart from these products, they also sell plows, disc harrows, cultivators, rear blades, and scraper boxes. The products they manufacture are sold across the globe.
The product they manufacture in the sweeper category includes,
STS-427LXH-42" Tow-behind lawn sweeper
The Brinly-Hardy Lawn sweeper product's features can be viewed on their website www.brinly.com
You can also check out this video for the detail knowledge of the inner function of the Brinly-Hardy lawn sweepers.
3. Ohio Steel Industries
The Ohio steel industry was founded in 1958 and is headquartered in Columbus, Ohio. The product categories of this brand include carts, rollers, sweepers, aerators, dethatchers, spreaders, ATV carts, lifts, and ramps. Their products are renowned for their quality and performance. They also market products in the name Allfit HD.
The sweepers of this brand include the following products,
42"/18 CF lawn sweeper
42"/22 CF lawn sweeper
50"/26 CF lawn sweeper
The Ohio steel Lawn sweeper products can be viewed on their website www.ohiosteel.com
You can find the best performance of the Ohio steel lawn sweepers through this YouTube video
4. Sun Joe
The snow Joe+ Sun Joe Company was founded in 2004 and is headquartered in the boulevard, New Jersey. It is one of the fast grown companies in this field. They market products under several categories including chain, pole saws, leaf blowers, vac, fire pits& bowls, tillers, cultivators, pressure washers, chippers, lawn mowers, trimmers, hedgers making it be used by the people throughout the seasons.
The sweeper's category includes the product
Sun Joe 26 inch manual push lawn sweeper.
You can have better understanding by watching this video about this product.
The Sun Joe Lawn sweeper products can be viewed on their website www.snowjoe.com
5. Cub Cadet
The cub cadet company was being established in the year 1961 and is headquartered in valley city, Ohio, USA. They are into marketing outdoor power equipment that includes, lawn and garden tractors, handheld and chore products, snow throwers, lawn sweepers, etc.
The lawn sweeper product from them include,
Cub cadet 44-inch tow behind lawn sweeper.
Their Cub-Cadet lawn sweeper products are viewable on the website www.cubcadet.com
Here is a YouTube video that explains clearly about performance of these lawn sweepers.
6. Grizzly
It was founded in 1983 and is headquartered Bellingham, Washington. The products they market include woodworking machines and metalworking machines. With 33 years of experience, their products meet the standards of requirement.
The lawn sweeper product category includes the following product,
Grizzly T10042-26" lawn sweeper
All their products can be viewed on www.grizzly.com
7. John Deere
The company was established in 1837 and is headquartered in Moline, Illinois. They are into manufacturing products to be used for agriculture, forests, and construction. Their products meet both the industrial and household requirements. When it comes to lawn care, they market products such as lawn mowers, tractors, sweepers. The logo of the brand is quite attractive in a green and yellow combination with a quick running deer.
In the sweeper's category, the products they market include,
John deere 42" lawn sweeper
John deere 44" lawn sweeper
Check out this video to get more feature information about this lawn sweeper.
The John-Deere Lawn sweeper products can be viewed on www.deere.com
8. Craftsman
The company was founded in 1927 and is headquartered in Hoffman estates, Illinois, USA. They are into manufacturing lawn and garden equipment, hand and power tools, smart products, storage and garage products, and craftsman wear.
In lawn sweepers, their product includes,
Craftsman 42" tow behind lawn sweeper
You can check out this video to collect more information about the features of this product.
For further updates, the Craftsman Lawn sweeper products can be checked on www.craftsman.com
Conclusion
To conclude, these are the top 8 brands that manufacture and market lawn sweepers and are very popular being the best sellers. Apart from these brands, there are also other brands such as Blue hawk, Remington, Yardwise, Precise fit, Husqvarna, Parker, Earthwise, YTL international, and much more.
Even though their products are made good, they do not rank top competing for the above mentioned 8 brands. These brands can be viewed by searching on the internet. Go through them and purchase a product that suits and meets your lawn requirements.